Once HuddleFly finishes creating its Wi-Fi hotspot, (i.e. when you see this screen on your TV or Monitor). From your mobile phone or PC or Mac, you can simply open up a browser and go to http://192.168.1.1 to configure your Wi-Fi. The Wi-Fi configuration page should look like as shown below:
Page shown on your TV or HDMI Monitor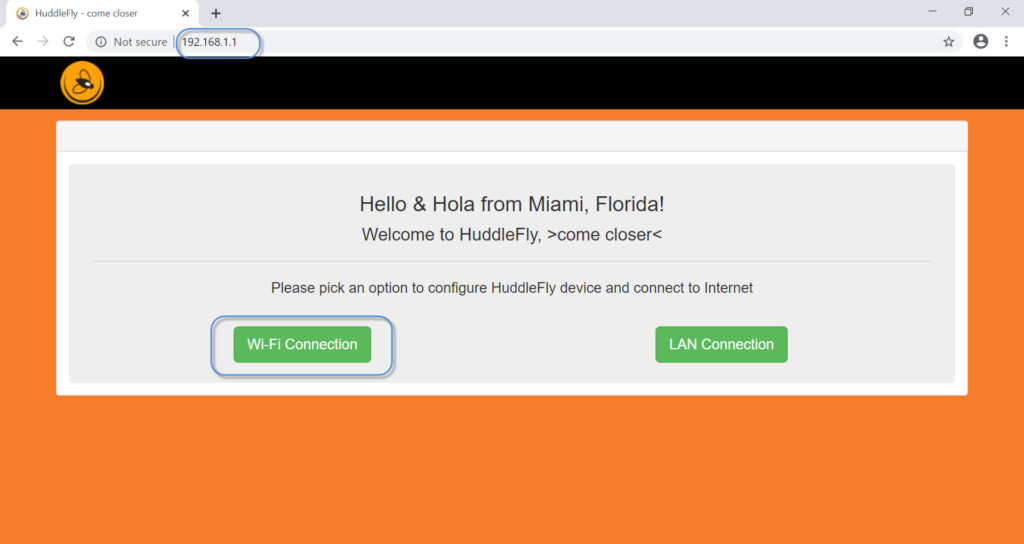 Wi-Fi configuration page shown on your mobile, PC or Mac browser
The optional Activity Sensor functionality will require you to purchase the additional Motion Sensor hardware for $19.99 from the buy products page. Once HuddleFly is connected with the motion sensor, you can control the status of the display monitor based on motions. HuddleFly uses the PIR sensor (passive infrared sensor) to detect objects motion in its field of view. The activity is further recorded and shown to you as follows.
Note: You can configure HuddleFly either via iPhone app or on the website (huddlefly.co). There is no power button for HuddleFly, but rather a hard-reset button (factory reset) when pressed for 5 seconds.
Create a HuddleFly account. You can use any email or login with Google or Facebook. Remember this email since you will need it in step#8. If you used an email to register, make sure you verify your account (Check SPAM folder for email from huddlefly.co).
Connect HuddleFly device to any monitor/smart tv with an HDMI slot. Or if you have a monitor with a DVI slot, you can use a DVI-HDMI adapter.
Turn ON your monitor & connect HuddleFly power. To power, you can either use the USB slots within your monitor/smart tv or the supplied power supply (HuddleFly works with 2V/1.5amps power supply).
HuddleFly creates its own Wi-Fi hotspot for configuration, be within 15-30 feet for a strong signal & follow directions on the monitor until the screen says: "5 Steps to connect HuddleFly to your Wi-Fi network."
On your iPhone go to Settings->Wi-Fi and connect to "HuddleFly" hotspot.
On the iPhone a browser automatically launches. On a PC browser, simply go to http://192.168.1.1
Choose "Wi-Fi Connection" or "LAN Connection" button. If you picked Wi-Fi Connection, choose "Wi-Fi Network" & click "Connect".
Enter your Wi-Fi password & HuddleFly account email that you created in step#1 & click "Submit" & follow the messages on the monitor.
Once HuddleFly successfully connects to your Wi-Fi, it will display a random QR code & a short URL.
Scan the QR code or enter the short URL to Add your new device. You are all set & ready to send commands to HuddleFly! Please visit http://huddlefly.co/FAQs to get a head start on how to use HuddleFly.
In-lieu of Device/Display Settings, you can control HuddleFly device further with the Device Commands function. You can Turn ON/OFF the display monitor, Switch between HDMI/DMI monitor displays, Reboot HuddleFly or Change your Wi-Fi password or HuddleFly email account. Simply pick the selected option and click the "Send" button.